Cold water, soda and soda
3M™ Water Filtration Products High Flow Series
The water filtration products from the High Flow 3M™ series will meet the filtration needs of an entire food service plant or meet specific applications. The High Flow system with Integrated Membrane Pre-Activated Carbon Technology ("IMPACT") provides water with the quality of river water, at a flow rate of up to 18.9 liters per minute and gives an equivalent output of three and/or four carbon filters that we used in the past. The filter even provides a solution for pre-filtering sand and rust, chlorine and other minerals. Whether your food service application is cold drinks, ice machines, coffee, tea, espresso or any other combination, one system of
3M Water Filtration Products High Flow Series
and/or connection of several systems to increase the flow rate up to 1000 cubic meters including a combined solution for hot and cold water, is a system that will take care of reducing cysts and bacteria, biofilm, removing sand, chlorine, reducing taste and smell and treatment of scale.
Reduction of deposits and hard particles that wear out the parts of the food machines and extend the life of pumps, valves, rings and seals.
CLS SERVICES, which distributes in Israel the company 3MTM, which is one of the leading companies in the field of water filtration and whose products are well-known and recognized in the field of drinking water, health and the food industry, which operates production facilities and sales offices around the world, will help the customer with the help of the unique professional knowledge in the field of treated water for the world of restaurants, catering and industrial kitchens and with the help of the professional laboratory its to reduce operating costs significantly.
3MTM developed activated carbon technology ("IMPACT") in high output, 3M™ High Flow Water Filtration Products of commercial food products that offers simple, effective unique and easy to install solutions that meet the volume, water clarity and maintenance expectations of restaurant owners, chains, fast food operators and stores Convenience, supermarkets, cafeterias and institutions, for drinks
Cold, hot and specialty drinks, ice, or any combination of applications. 3m water filtration products provide a total solution to reduce cysts and bacteria and filters specially built for more cloudy water. 3M water filtration products can help you lower your foodservice capital and operating costs.
The composition of the filter
1. A filter housing made of polypropylene.
2. A membrane made of a membrane with pleats to protect against cysts and bacteria and excellent capabilities for treating deposits of sand and rust with a minimal drop in water pressure.
The filtration is of 0.2 and/or 0.5 microns.
3. Carbon block technology has 4 times the absorption capacity of the taste and smell of the chlorine and minerals in the water compared to the competitor. Also includes a bacteria inhibitor to improve hygiene.
4. An improved pleated membrane with an absorption capacity 6 times that of the competitor's surface area (see the surface area diagram in the explanation of the technology). The filtration is of 0.2 and/or 0.5 microns
5. Pre-filtration of 5 microns of sand and rust.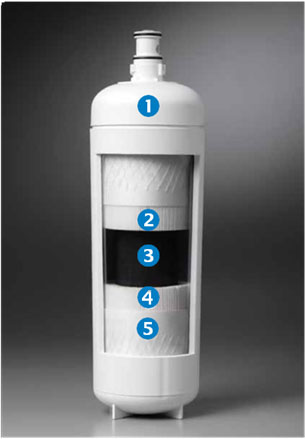 High Flow system for cold drinks, soda and drinking facilities
Cold drinks are often the most profitable part of convenience stores, fast food restaurants and quick service stores.
High Flow filters are filters with high flows of 200 cubic meters for a single filter, which is enough to prepare 432,00 glasses of cold drinks and soda in the quality of river water thanks to the unique technology of Integrated Membrane Pre-Activated Carbon ("IMPACT").
*** Notes - by clicking on the link we will get a transition to technologies.
One High Flow filter replaces three or four activated carbon filters and lowers capital and operating costs.
For cold drinks and soda, high-flow filtration provides:
• Removing chlorine, sediments, taste and smell from the water to obtain cold drinks and soda with the quality of river water, and saving syrups in the preparation of drinks to the satisfaction of the customers.
• Removing sediments and hard particles from the water that help extend the life of pumps, valves, rings and seals against wear.
• Filters that combine a membrane with a carbon block ("IMPACT") result in the reduction of microorganisms, including Cryptosporidium and Giardia cysts (according to NSF standard 53)
and water-borne bacteria such as E. coli. of over 99.99%.

An example of a system of several 3m HIGH FLOW SERIES filters that are suitable for treating both cold and hot drinks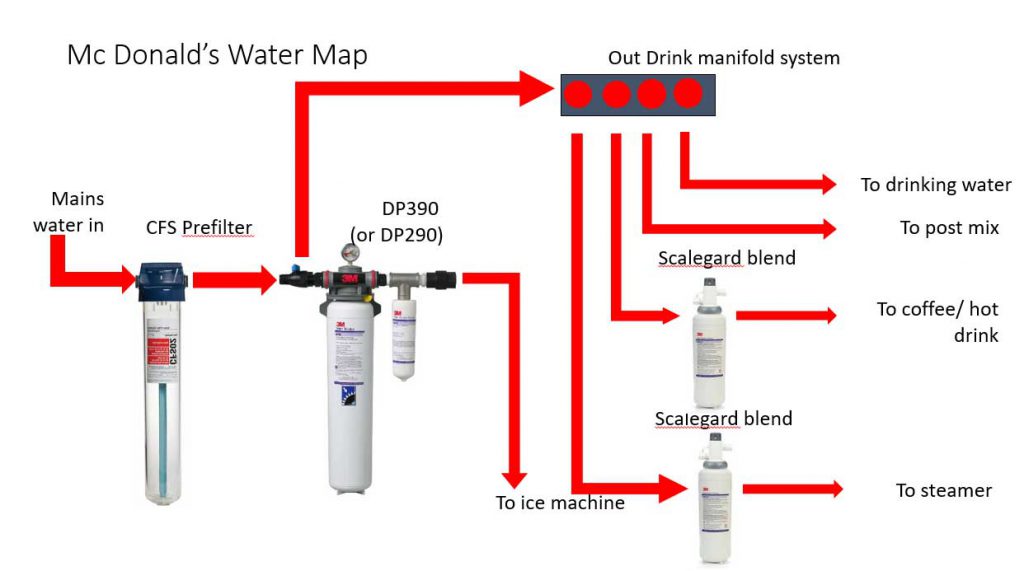 Which filter will suit your business?