Industrial reverse osmosis system
What is an industrial reverse osmosis system?
Industrial reverse osmosis system - water is an integral part of our lives, and in fact, without it we cannot exist. However, we see that there are different qualities of water that we consume, and this is true whether it is the private house or the factory.
As a result water is not just H2O, but is much more than that, it is clear why we would want its quality to be good. There are quite a few businesses where there is a demand for water free of various minerals. The reason for this is clear, since the same minerals that are often found in water can damage the quality of the water.
Therefore, if you also run a business and you want to give your customers the best, it is clear that your water must be of high quality. Does this sound familiar to you because you recently became interested in this topic? You're not alone. Anyone who runs a large business that uses water understands the importance of mineral-free water.
That's why you should know that this is exactly where an industrial reverse osmosis system comes into play. In fact, industrial reverse osmosis systems reduce in a very significant way exactly those factors that we would not want to find in the water. For example: the amount of tannin, the amount of chlorides and even the amount of artificial colors in the water. Therefore, if you also want to ensure that your water in your business is clean, industrial reverse osmosis systems can suit you.
When is an industrial reverse osmosis system a good choice?
As mentioned, in any case where the issue of the importance of clean water is recognized and known, a device such as an industrial reverse osmosis system is needed. For example, we see that today many business owners who work in different fields purchase such a system. For example: those who work in the production of food and beverages must be careful about good and clean water.
In addition, anyone who has any kind of industrial kitchen must also have clean water. It can be a hotel kitchen, various catering companies or even restaurants and food chains. Therefore, if you also run this type of business, you are probably familiar with the discourse around the issue of mineral-free water.
Various healthcare facilities also buy industrial reverse osmosis systems, and so do cosmetics and drug manufacturing plants. An industrial reverse osmosis system can have a very significant impact on the future of the business in various ways.
In addition, such systems even affect the operating costs of the business. If the water is clean there is much less scale, corrosion and more. In this way, the equipment itself is preserved for a longer period of time and thus the operating costs of the entire business decrease. All of these are reasons that explain well why such systems are used today in many industries. In addition, systems of this type work in a great way so that there are no difficulties in their operation or unnecessary malfunctions.
How to choose among many industrial reverse osmosis systems? 
Looking for an industrial reverse osmosis system but don't know which option to choose? Of course you can be understood. When talking about industrial reverse osmosis systems, we are talking about a professional field for all intents and purposes. Therefore it is natural that you will have a dilemma about purchasing the right system.
It is important to take into account several different details, such as: how much do you want to invest? And do you want the best system out there? Is it important to you that this be a system that also meets all the strictest international standards? When you want to buy a system for good water quality and to reduce operating costs in the business, it is definitely worth consulting with the experts.
The idea is of course to buy a system today that can last for years. You don't really want to find yourself buying a reverse osmosis system that won't be efficient enough. Therefore it is also important to check which company produced the system. Just as it happens in other fields, we see that here too there are leading and more well-known companies than others. Therefore, if you invest in purchasing a system of this type, of course it would be desirable to buy the best available.
Meet the experts who will be able to help you all along the way
Whether you need an industrial reverse osmosis system or whether you are looking for one Water softening system, you need to know the field. There are a lot of options in this industry these days so obviously this also causes confusion. It is true that you can read a lot of information on this topic today, even online, but there is a difference between that and a deep understanding.
Therefore, if you do not want to make a classic mistake and choose a reverse osmosis system for your industry that will not prove itself, turn to the best. Someone who lives and breathes this field, sells such systems and comes with years of knowledge will be able to help you. That's why you should get to know the company CLS SERVICES.
The company, which is available for you at the number: 052-3004050, will give you the best, with close and professional accompaniment. Therefore, whether you are clear about which system you are interested in or whether you would like to receive advice, there is no doubt that CLS SERVICES is the best address you can think of. Get in touch and you can significantly improve the water quality in your factory.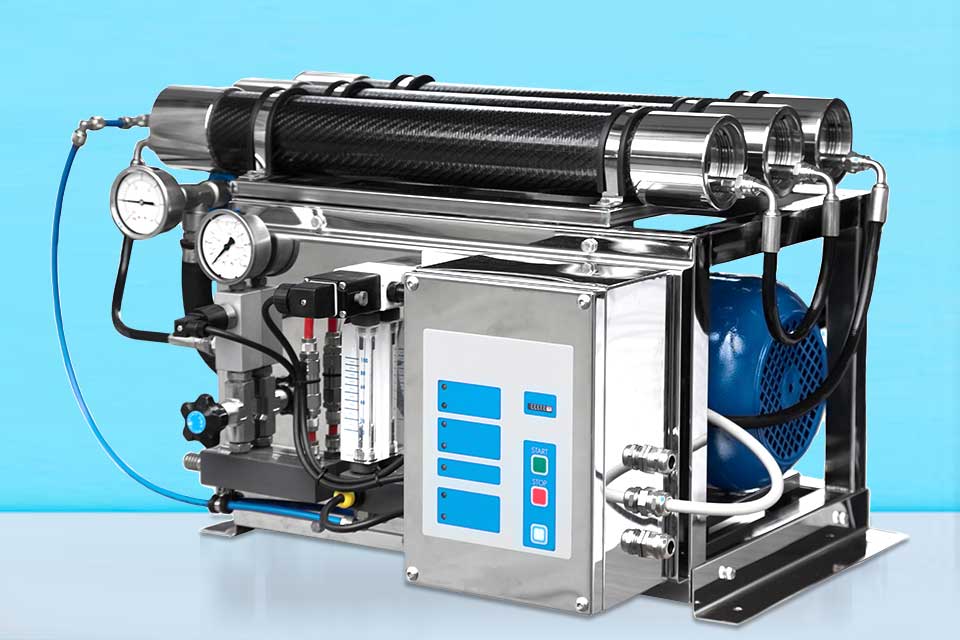 Starting a new business or renovating the existing one?
Use the laboratory services and professional advice of the CLS services company
Dial: 052-3004050
Or fill in details and we will get back to you to set up a consultation meeting to adapt the filter systems to your business.

The importance of treated water for your business
The water affects the taste of the coffee, the taste and the transparency of the ice cubes. Combi ovens that operate at full steam. When you produce the food, the quality of the water you use is key to the right customer experience. Using quality filter products may save time and money as a result of scale and corrosion problems in the long run. Reducing scale and corrosion contamination in your machines in the long term will result in greater efficiency in operating capabilities with a significant reduction in technician service hours and large savings in operating expenses.